Photography & Digital Services
Delaney Design offers photography & digital imaging services, including the following services.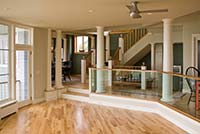 Architectural Photography Services
Delaney Design offers on location, indoor and outdoor, available light architectural photography services.
View architectural sample images
Digital Imaging & Archival Printing
Delaney Design offers digital imaging and archival printing services utilizing state-of-the-art digital imaging software and hardware. Services include:
photo retouching and manipulation (film or digital)
scanning of 35mm slides or negatives
preparing images or graphics for print or online use
artwork reproduction
archival printing up to 13"x19" using pigment inks
Please contact Delaney Design for more information or questions about photography & digital services or any other services offered.